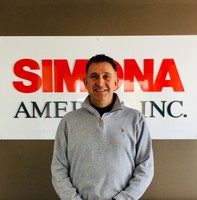 Gary Borgia, Business Segment Manager
101 Power Boulevard
Archbald, PA 18403
Phone +1 570 876 8199 ext 419
Restroom, Shower Partitions & Lockers
High density polyethylene sheet engineered to meet the NFPA 286 corner burn test criteria for bathroom partitions

Unmatched Performance. Unmatched Quality. Unmatched Service.
SIMONA AMERICA Industries has engineered the most effective and code compliant patent-pending HDPE stall partition sheet on the market – SIMOBOARD Defender. Now you can benefit from the advantages of durable solid plastic for bathroom partitions and not have to compromise for compliance.
SIMOBOARD Defender Meets the Test Criteria… Unmodified
SIMOBOARD Defender is the first NFPA 286 compliant HDPE commercial stall partition sheet. Not all stall walls are tested to the same standard, and we've gone the extra mile to ensure SIMOBOARD Defender meets the code specifications entirely, so that you can be sure that the toilet partitions in your facility meet the most up-to-date fire and safety standards.
Style with Substance in Everything We Do
Commercial partitions don't have to be bland, and you should never have to sacrifice performance, safety, and durability in bathroom stall walls to get colorways that match your design preferences. SIMOBOARD Defender is offered in several dynamic colors. Each color is offered in a dual-sided scratch-resistant matte texture. Custom colors are available with minimum order requirements.

Standard Colors

Black
Paisley Black
Blueberry
Slate
Dawn Grey
Linen
Configurations

Sheet sizes: 54 x 96 in. (1,372 x 2,440 mm)
Gauges 1.0 in. (25.4 mm)
Texture: Matte 2 sides
Masking: 2 sides
Downloads

Key Benefits
Easy to route
Maintenance-free and easy to clean
Marr and scratch resistant
Meets the NFPA 286 corner burn test requirements
Solid color throughout
Solid polymer composition won't delaminate, rust or dent
Uniform color and surface consistency
Applications
Restroom, Shower Partitions and Lockers
Products
SIMOBOARD Defender NFPA 286 HDPE Partition Board
SIMOBOARD Divider Class B HDPE Partition Board